E-commerce Packaging Design ideas by Leading Box Manufacturers
Worried that your packaging boxes don't look up to the mark? Your e-brand can only thrive amidst the rising rivalry at e-commerce markets when the customers get an unforgettable unboxing experience. Some trending box designs are explained in detail by expert box manufacturers.
Packaging trends of 2022
Some of this year's box designs are an amalgamation of previous box patterns teamed with modern customer tastes. Here are some of our recommended designs that would go on for this year.
#1: Simplistic geometric designs
You must have noticed that more brands are tilting towards using symmetric patterns on their boxes. It is a reflection of evolving customer choices and their preferences toward less complicated box styling.
A lot of variants have led to this trend. But the important thing is to figure out how you can imbibe such designs without going off-track with your branding goals. You can start off by picking clean colors, slick lines, and sharp angles. Using simple lines is a good way to convey professional brand ethics.
Globally leading brands such as Apple have used such designs to popularize their packaging. One look at the boxes is enough to spot the brand amongst a sea of others.
#2: Pristine box background colors
A packaging trend gathering pace is the use of single colors for box bases. This style is gaining popularity as it lets the brand name and logo be more visible by making them a focal point on the boxes. It also helps in expanding brand recognition as well as making new customers aware of the brand image.
Many times, it is the boxes that introduce the brand to buyers. E-commerce involves shipping boxes to various destinations. This procedure enhances the probability of your packaging passing through many customer touchpoints. Creating an updated and modern box style using monotones on the boxes is a good way to grab more eyeballs.
#3: Block colors
Color blocking became popular in 2021 but has taken a new shape in 2022. Modern printing techniques use creative color combos, varied color weight, and shapes on the boxes and make them seem lively and vibrant.
The main contrast between color blocking done in the previous years to now is the replacement of straight lines with more organic forms. The pattern and texture have also evolved to give a personalized feel to the boxes. Lighter colors have become more popular instead of neon ones. Customers are drifting towards earthy shades as they reflect healthy products.
#4: Enhanced focus on eco-friendly packaging
Sustainable packaging practices were up in 2021 but this year, increased government pressures have made it mandatory for brands in various countries to use green materials to craft boxes.
Customers no longer consider sustainable boxes as an extra competitive edge. Using these materials have become a staple for e-selling with buyers attaching negative feelings to those e-brands that send shipments in alternative boxes.
Moreover, the box components are now being used from recycled materials as well. There are numerous box manufacturers who help style every box feature with green materials. For instance, using cardboard for handles and locks, custom trays made with foams and corrugated paper, etc.
#5: Graphics and illustrations
Contemporary customers value brand stories more aggressively than ever before. All the graphics used on the boxes uplift the brand value and get important messages across conveniently.
Over the years, this packaging trend has become more practical. Flat graphics are preferred by customers and sellers use proactive printing effects to nurture their illustrations. Using these can earn your brand:
Stronger customer loyalty through convincing marketing.
Satisfied buyers due to apt info placed on the packaging.
Better logistics. Handling guidelines printed with graphics and/or texts support shipping safety.
Interactive box appeal that captures customer interest instantly.
Often, graphical messages reap better results than long texts. Customers are usually short on time and using illustrations can give them an immediate idea about the brand and its values.
#6: Porous packaging materials
The advent of the recent pandemic has urged many e-sellers to choose custom boxes that limit viral transmissions. Studies show that bacteria survive for some days on plastic and just a few hours on porous materials.
For this reason, many socially responsible companies are excessively using porous packaging wherever possible to lower the risk of virus spread. It not only radiates a positive brand image but also helps to be in sync with renewed customer expectations.
#7: Clear fonts
As with the trend of using simplistic patterns on the boxes, the fonts used to print texts are also inclined towards a clean style.
Most successful e-brands like Amazon are known for using minimal content on the box covers. The brand name and logo are printed in clear fonts. Even the other box content is printed using simple language and style. In 2022, e-businesses are more likely to use understated font colors and minimal printing to make their brand image the focal point of their packaging.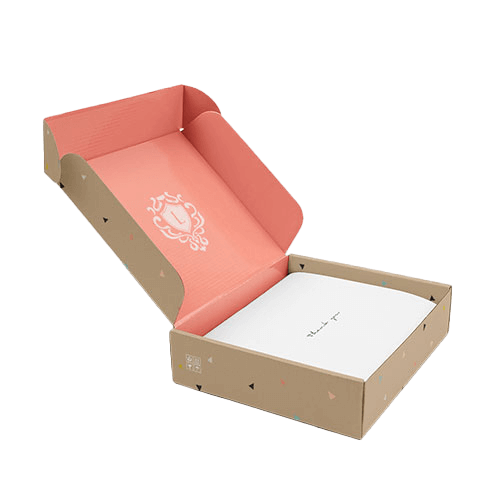 Why should you use these current trends?
Obviously, you can't use all of the trends stated above. The secret is to pick the ones that gel well with your brand identity. These trends can have several positive impacts on your business. These include:
It makes your brand relevant. Staying with changing times is the key to sustaining longer in your e-markets.
Gives a highly-retainable unboxing experience. Customers like to open boxes made with modern embellishments.
Trendy box designs like handles give more shipping convenience.
Reduced material wastage as the sizes and shapes are created creatively.
A believable brand story generates higher customer loyalty and enhances sales.
Box manufacturers can be your true partner in this endeavor. They are well versed with the intricacies of the latest packaging designs to provide you with unparalleled customer satisfaction.
Conclusion
You can conveniently design your boxes and have them delivered within a few days. Trendy shipping boxes are sure to benefit your overall profit levels by attaining a prominent competitive edge over rivals.